Ace Trucks Size Buying Guide
Author: cheets Date Posted:1 January 2019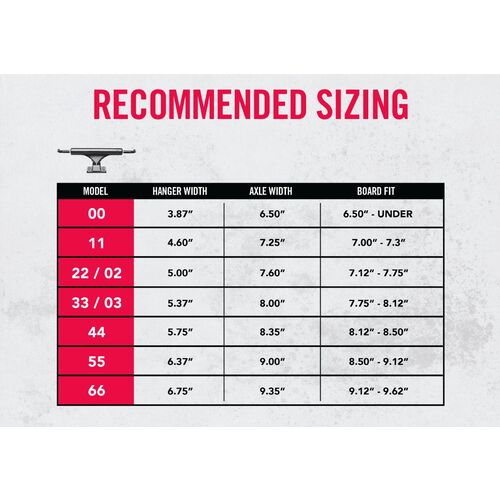 One of the most frustrating things in skateboarding... is changing the brand of trucks you ride!
There is a very good chance you bought your first setup as a complete and you were pre-destined ride a certain brand of trucks. Once you had cracked those trucks from all your high speed slashing and acid drops, you would have gone to your local skateboard shop and walked into a very confusing conversation with a bad smelling local skate rat. He would have told you the unnecesarry history of every truck brand and heavily pushed his preffered brand down your innocent unknowing throat! But what he wouldn't have told you is, if you want to switch brands, what size truck you need to get in the new brand!
Well that's where the Ace Trucks Size Buying Guide comes in...

This is the ultimate guide of how to switch from the skateboard industries lead truck companies to Ace Trucks.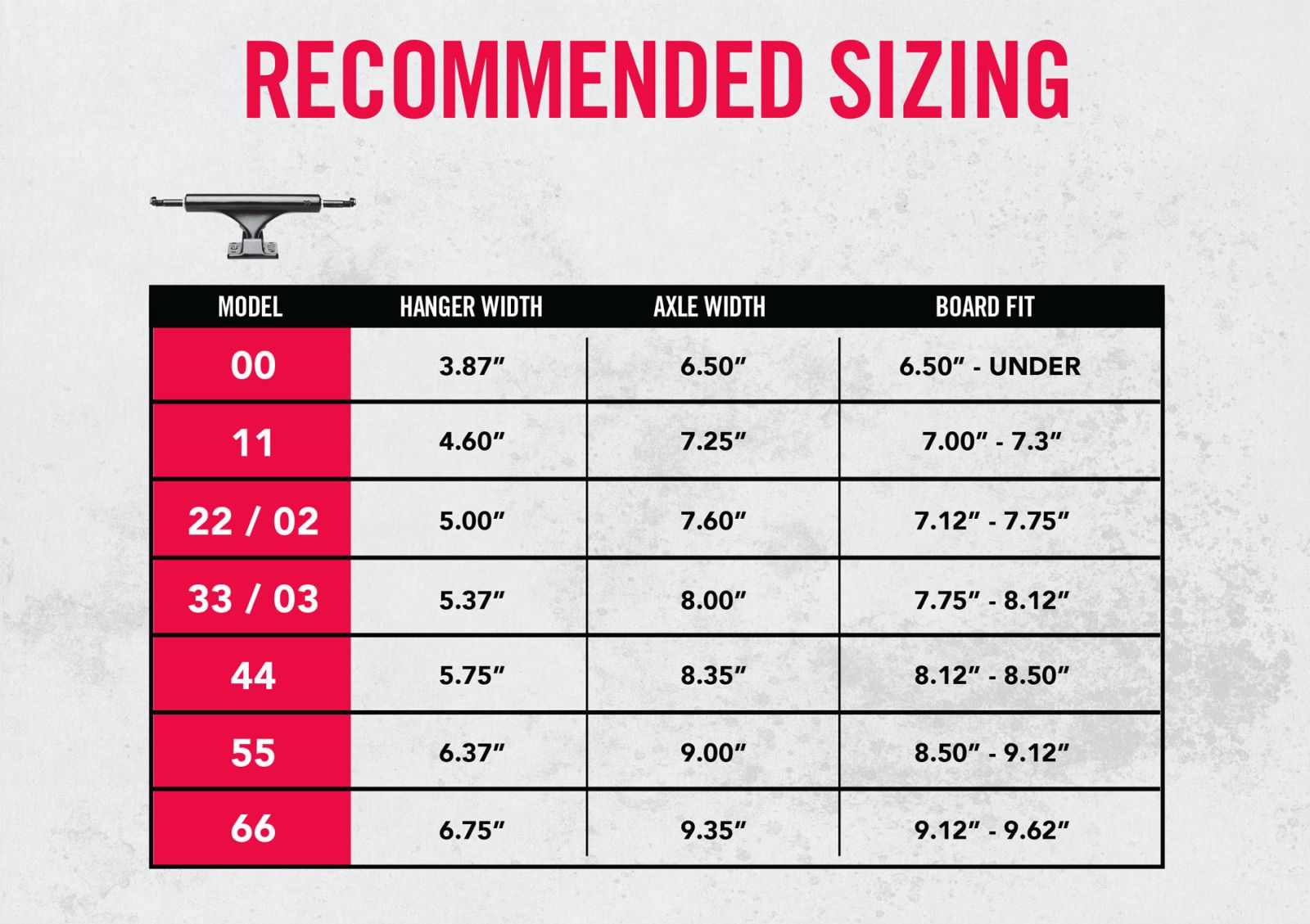 Ace Trucks Size Guide

| | | | |
| --- | --- | --- | --- |
| Model | Hanger Width | Axle Width | Board Fit |
| 00 | 3.87" | 6.50" | 6.50" and under |
| 11 | 4.60" | 7.25" | 7.00" to 7.30" |
| 22/02 | 5.00" | 7.60" | 7.12" to 7.75" |
| 33/03 | 5.37" | 8.00" | 7.75" to 8.12" |
| 44 | 5.75" | 8.35" | 8.12" to 8.50" |
| 55 | 6.37" | 9.00" | 8.50" to 9.12" |
| 66 | 6.75" | 9.35" | 9.12" to 9.62" |
Ace Trucks Compared to other Skateboard Truck Brands

| | | | | |
| --- | --- | --- | --- | --- |
| Ace | Independent | Thunder | Venture | Theeve |
| 00 | 109 | N/A | | |
| 11 | 109 | 143 | | |
| 22/02 | 129 | 145 | 5.0 | 5.0 |
| 33/03 | 139 | 147 | 5.2 | 5.25/5.5 |
| 44 | 144/149 | 149/149 | 5.8 | 5.5/5.85 |
| 55 | 159/169 | 151 | | 6.5 |
| 66 | 169 | N/A | | |
---
Leave a comment