Low 3.5mm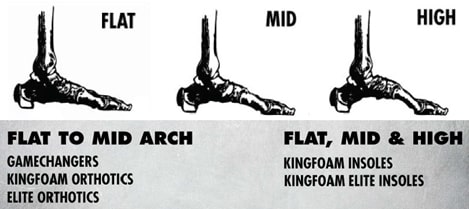 Footprint Gamechangers Low Profile Custom Orthotics 3.5mm Insoles - light grey camo
The first thing that you will probably notice about these is that they are likely much harder than the insoles that came with your shoes and when you first slide your feet in, they honestly don't feel very comfortable. But because they are custom molded to the shape of your feet, they provide much more support than anything else I have found. Also, they get softer when they warm up, so once you get moving they seem to become a bit more flexible. These are a great alternative to the standard Gamechangers if you have shoes that are a little more snug in the forefoot, but the heel section is not much thinner in the Low Profile version. I still found them too thick for my running shoes, but they work great in my Vans. For comparison, the standard Gamechangers work well in my Gilbert Crocket Pro 2's but the Low Profile Gamechangers are better for my Slip On Pro's (both pairs are the same size, but the Slip On's are more snug in the forefoot). I do recommend these as they do offer great custom support and fit better in snug shoes than the standard ones, but they are not as comfortable as they are supportive.
Finally, a real custom orthotic without doctor's fee's lab visits, high expenses and long waiting. Worldwide patents pending.
1. Heat in the Oven
Heating to 225F for 8-10 minutes causes the inner arch chamber to soften and expand allowing the insole to take the exact shape of any arch.
2. Molding Process
The insole takes the unique shape of the foot and becomes firm as it cools down. Firm enough to truly support the skeletal structure.
Place in shoe and walk for a dynamic mold
Stand on the insole for solid mold
Sit and apply moderate pressure for an arch building mold
3. Enjoy the Benefits of a real custom orthotic
Normally, as the muscles in your foot get tired or when taking heavy impacts, your arches will start to collapse. This leaves you prone to injury and soreness as your joints stop working in alignment.
Gamechangers:
increase balance
stop the arch from collapsing (overpronation)
increase performance time
prevent arthritis from uneven cartilage wear
prevent acute injury such as torn ACL
proper alignmentoverpronation ankle
4. Remold to new shoes
Many shoes have different widths so buying a custom orthotic from a lab will achieve different results in different shoes.
Gamechangers can simply be remolded to new shoes.
(fp.gcl.gc.s.13)
| | |
| --- | --- |
| SKU | fp.gcl.gc.s.13 |
| Brand | Footprint Insole Technology |
---
More From This Category